Hat Fair works with Without Walls on brand new shows
Festival goers at Hat Fair 2019 were treated to a host of colourful, intriguing and thought-provoking performances from acts supported by Without Walls Outdoor Arts Consortium – a network of festivals that work with artists to bring Outdoor Arts to towns and cities across the UK.
As a partner of Without Walls, Hat Fair co-commissions productions, which go on tour around the UK and internationally, to ensure new shows are produced for the Outdoor Arts sector, and to help nurture the talent and skills of those working in Outdoor Arts.
In 2019 Hat Fair hosted six Without Walls productions – three of which it co-commissioned.
Thingumajig Theatre's Ghost Caribou – two giant, illuminated caribou puppets – first appeared as part of Hat Fair's Carnival. Then that evening, accompanied by a 'wild herdsman', it returned for a walkabout that saw hundreds of curious members of public walking behind it to the Cathedral grounds for a spectacular shadow puppet show about lost homes and migration.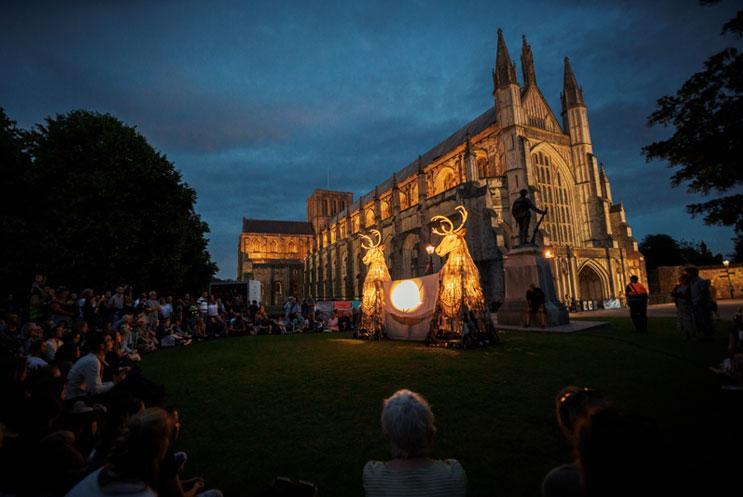 Returning headline act, dance company, Motionhouse – who wowed audiences in 2018 with Block, a piece centred around what resembled giant Jenga – brought a new dance-circus piece called WILD. Co-commissioned by Hat Fair, and exploring our disconnection with the natural world, it saw the troupe carry out daring moves across a sky-high forest of poles. For two evenings audiences of around 1,000 were captivated by the show, which on the Friday took place under a blazing sunset.
Another Hat Fair co-commission, Fantabulosa! by Tickertape Parade – who combine art experiences for underrepresented voices with social engagement – invited festival-goers to join some of the UK's leading drag performers for a glittering, queer-positive show created for youngsters – but enjoyed by all. Storytelling, lip-sync, songs and dance encouraged audiences to embrace who they are.
Wild-N-Beats brought to Hat Fair an intriguing show called Buck-A-Brenda, based on the traditional game, Buckaroo. Audience members took it in turns to select objects linked with disability, from country and western lovers Beryl and Cyril, to hang off Brenda's rocking wheelchair. Exploring disability in a unique, fun way, this third co-commission captured the imaginations of all ages.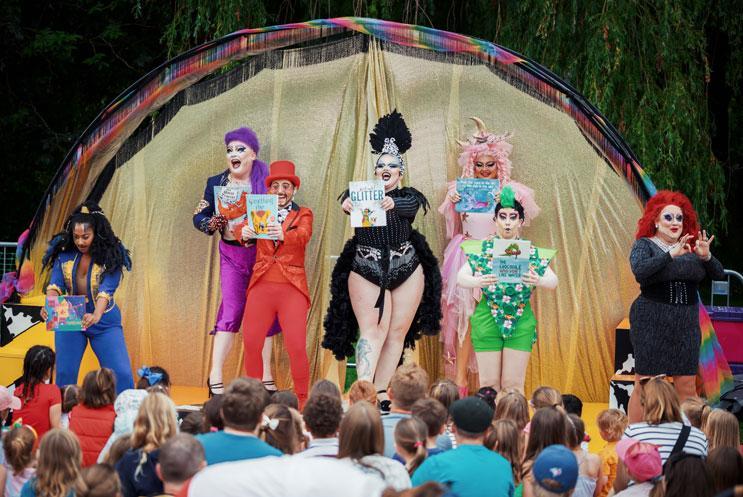 Whilst Stopgap Dance Company's uplifting dance piece, Frock, focused on our right to freedom of identity and the celebration of our differing identities. The group of six striking dancers represented a clash of eras and fashions and looked at what is acceptable appearance.
Finally, multi-award winning artist, Ray Lee, presented Congregation. Three groups formed at the city's Great Hall, Winchester School of Art and Wolvesey Castle to collect mysterious silver balls, to carry to an unrevealed location. As they walked, the balls gave off a hum that grew louder as they got closer to the other groups and final destination. Once gathered, the balls' musical finale produced a beautiful sound and a feeling of community and coming together for festival goers.
Hat Fair Director, Andrew Loretto, continues to work with Without Walls and hopes to bring more new shows, supported by the consortium, to next year's Hat Fair, which runs from 5 – 7 July 2020.