Festival goers thrilled to be back!
Hat Fair 2021 took place last weekend at North Walls Recreation Ground in Winchester. Our covid secure festival was a huge success, entertaining audiences of all ages with circus, dance, magic, music, comedy, and more.
This year the three-day event, which took place from Friday 02 - Sunday 04 July, saw professional and local acts creating a spectacle for festival goers – with Puppets with Guts' giant red lips miming popular musical numbers to everyone's delight, Dizzy O'Dare wore a huge balloon on his head before getting inside it to dance around in; Eye Music Trust's aerial artist performed in a bubble the size of a house in Music of the Spheres; Tit for Tat juggled with books and fire as part of a book club themed show; while street theatre duo Jones and Barnard involved a hen party in one of their performances of Variety Spectacular, and featured escapism and Barnard juggling with machetes in a string vest and Union Jack boxer shorts while trying to drink a pint balanced on his head!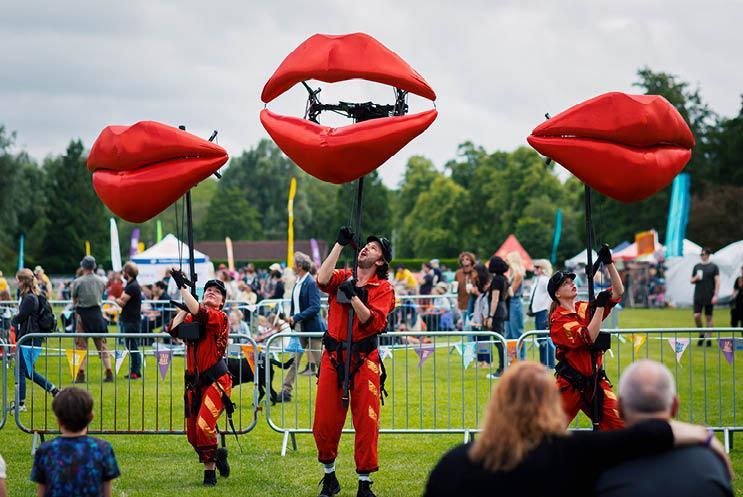 Huge hats off to Play to the Crowd for bringing Hat Fair to life this weekend, and for keeping us Covid safe after a year of no theatre. Such a fabulous feeling to be part of an audience again watching live, outdoor performances.
Walkabout acts mingled to get people in the festival mood - including Joy Magnet's stilted bouncing kangaroos, Roo'd, which towered over festival goers at the entrance gates; Pif Paf's whimsical food truck drew in a crowd for the performers to sing, play instruments, and raise endless toasts to audience members; Eye Music Trust's dancers and musicians performed inside large-scale bubbles, weaving in and out; while young children and adults alike were enchanted and followed the charming lady sat watering her flowers, and friend to bees and butterflies, in the world-renowned The Enchanted Flower Globe.
We enjoyed all the acts we saw, very entertaining. We felt very safe as there was lots of space. A job well done!
There were lessons to be learned with Etta Ermini Dance Theatre and Van Huynh Company dressed in brightly coloured, skimpy outfits, dancing and miming to popular songs, in a piece called Glam, which discussed gender and sexual politics; while a group of dancers' powerfully striking movements captivated audiences as they told the story of black people's lives during the Victorian era in Black Victorians, choreographed by Artistic Director Jeanefer Jean-Charles who has worked on opening ceremonies for some of the world's biggest sporting events; and Liberate Dance's wheelchair performers stunned audiences with their dance piece, The Reckoning.
So wonderful to be back at outdoor arts festivals again. Fabulous time down at Hat Fair... So many shows ended on moments of hope – exactly what's needed right now.
Hat Fair has been running for 47 years - apart from last summer when it was cancelled due to the Covid pandemic; and as a result of government regulations put in place during the pandemic - including the need for social distancing – for the first time the festival was ticketed to control audience numbers and held only at North Walls Recreation Ground for the three days of the festival. Hat Fair is famous for being free to attend and exploding on to, and taking over, the city streets and green spaces of Winchester for two of the three days. However, while the coronavirus meant we faced new challenges, the event went on without a hitch and even mild showers could not dampen spirits - with audiences desperate to enjoy themselves after over a year at home.
Lockdown was a theme for Lottie Clist who created and walked around with a life-sized puppet, octogenarian Dorothy, collecting stories from older festival goers about their experiences of lockdown and loneliness. Lottie won Playmakers' 2019 Top Hat competition, which sees past and present University of Winchester students perform at the festival to win mentoring from Hat Fair and Playmakers Director Andrew Loretto and devise and perform a piece at the following year's event. This year there were two winners - Michelle Dabenett's Welcome to My Wendy House about childhood, and DoDo Dramatics with Ancient Antics – Mock the Greek, with them dressed in a bizarre mix of togas and high vis jackets.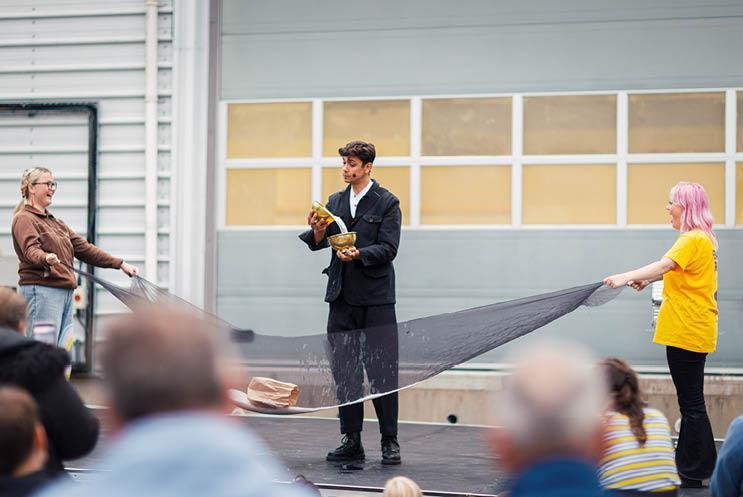 Brilliant work from Hat Fair this weekend presenting some great artists in a lovely festival atmosphere.
A piece called Strong Enough saw The Strong Lady perform circus skills and feats of strength, including lifting large piles of bricks over her head, to a powerful soundtrack of people's voices (including her own) telling stories of when they found strength in unexpected places. Following, and inspired by the show, audiences then went up to her to share their own experiences of when they themselves were mentally and emotionally strong.
Audiences flocked to the Music Stage too to support and enjoy local talented singers and musicians and Winchester's Blue Apple theatre company, which works with people with learning difficulties, sang and told the story of how extraordinary ordinary people (from chef to workman) are; while well-known performers from popular TV shows - Britain's Got Talent's Ben Hart - and Circus Maximus' Sam Goodburn - astonished fans with card tricks and making rice seemingly appear out of nowhere, and riding a unicycle across a tight rope while eating a jammy dodger (respectively); and swarms of children sat in wonder as they enjoyed festival veteran Juggling Jake's circus skills show and Out of Bounds Theatre's Beware of Pirates! sea shanties and goofing around.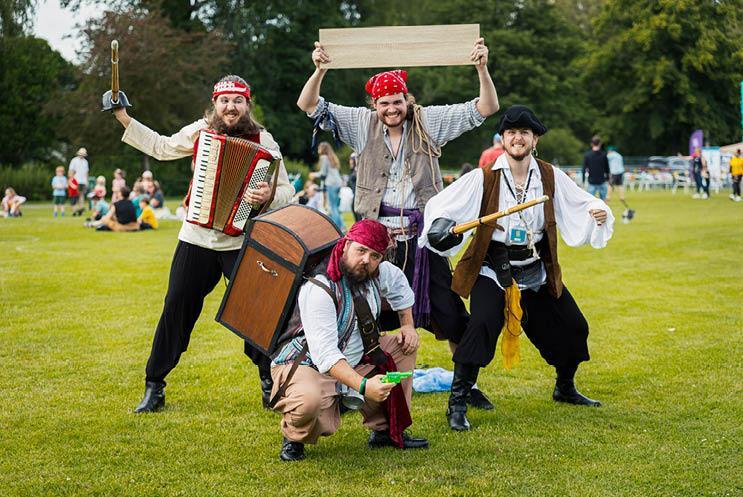 Unlike at Wimbledon, the rain did not stop play for Fairly Famous Family whose comedic Anyone for Tennis? saw audience members competing against their own raging player, Maria Chestycough, who argued that every ball was in and Damae Dance's performances of IRMA-sister, saw two female dancers performing athletic movements independently and as a pair.
Despite or because of intermittent showers though, the unexpected and delightful finale on the Sunday evening was a double rainbow that appeared over the festival as young and old said goodbye – with many receiving a souvenir from the festival in the shape of a King Alf figure, knitted by local residents and further afield, as part of a knitting project launched at the start of lockdown last March.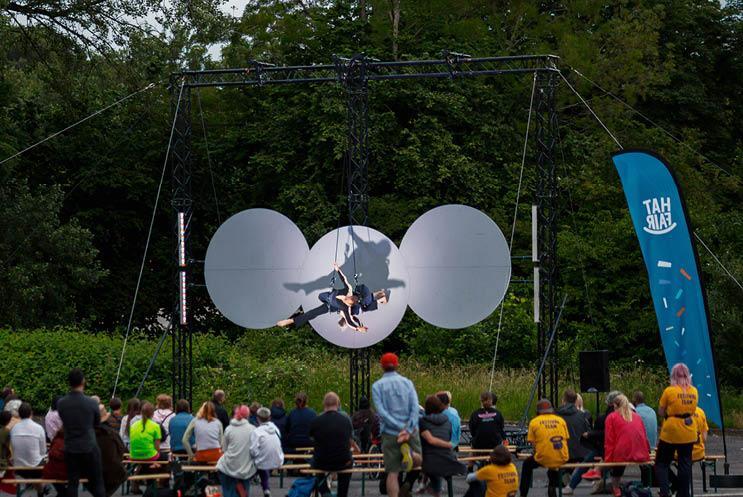 We are eternally grateful to Arts Council England, Winchester City Council, our Corporate Supporters, Investors and Members for their continued investment and belief in us, and the whole community for stepping up and helping with our Survival Appeal last year. We simply wouldn't be here without you.
Chief Executive of Play to the Crowd, Deryck Newland said: 'After the last 18 months we're thankful we were able to present the festival this weekend. The ticket income has gone some way to cover the additional costs of the Covid secure measures we put in place – from paying the 'hatters' a fee where in normal times they would have collected monies in a bucket after the show, to limiting to the audience numbers.'
Hat Fair and Playmakers Director Andrew Loretto, continues 'We are delighted with the feedback from audiences, artists and the team regarding this year's festival and the format and measures we put in place. We very much hope to return to a more familiar format next year, with Hat Fair taking place throughout the whole city, whilst taking forward some of the learnings from this year's event.'
Thank you so much Hat Fair! We knew we missed you, but didn't realise how much we needed you. Can't wait to do it all again in 2022.
All photos by Adrienne Photography